BRIM: Live Life filled to the BRIM
Felt needs evangelism to reach a high school campus
Let's face it. The old way of doing doing high school youth ministry isn't as effective as it used to be. There is a lot to compete with and high school students have changed a lot in the last 10 years. Shouldn't the way that we minister to these students change with them? The felt needs evangelism tool "The BRIM App"was developed to do just that, effectively minister to a changing youth demographic.
The goal of the BRIM App is to help youth pastors show an entire high school campus that they care about the students lives as a whole… Emotionally, Socially, Creatively, and Spiritually… and that they are capable of helping in all of those arenas. When done effectively, this will lead to spiritual conversations between the youth pastor and the BRIM users at his local high school campus.
Features include:
– Send Push Notifications with a 95-100% read rate
– Custom Branding to any Youth Group or High School
– Send Engaging Video Content to Users
– Manage an Events Calendar Tailored to the Needs of Your Local High School Student
– One Touch Contact Buttons for Users to Gain Access to the Content Manager or Youth Pastor
– Turn by Turn Navigation for Students to Find Your Place of Worship from Anywhere in the World
– An About Us Tab for Users to have a Full Understanding Upfront of the App and it's Use
– Available to Users for FREE in the App Store and Android Market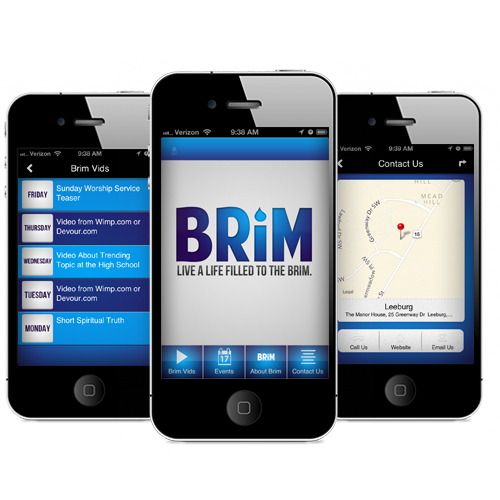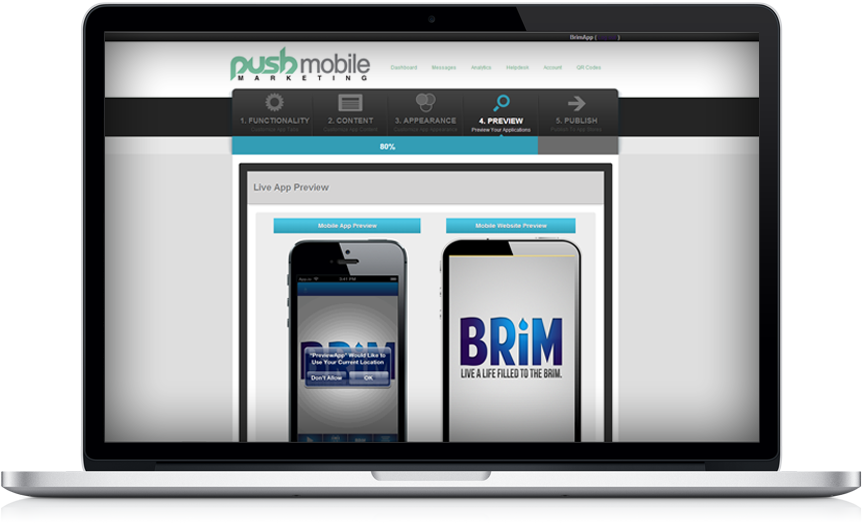 Easy to use CMS
Post daily videos, and update the events calendar easily with a user friendly content management system. If you can post to Facebook, you can easily manage your app for maximum reach into your local high school.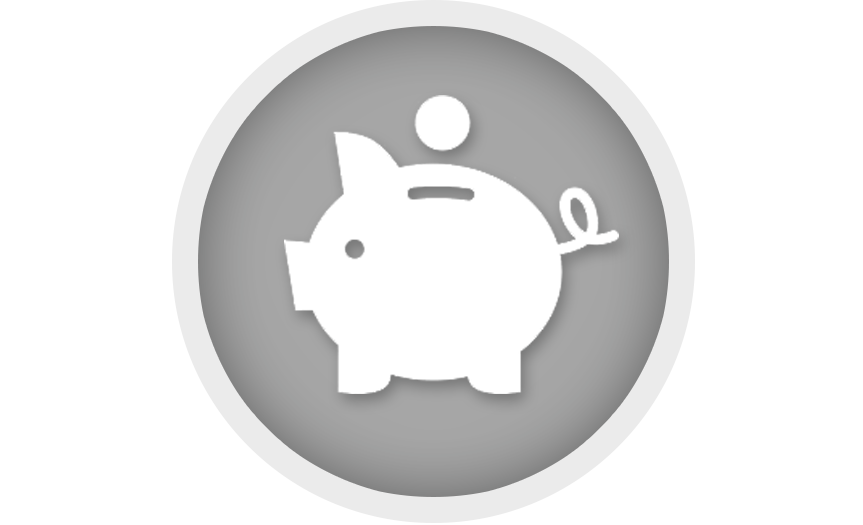 AFFORDABLE
Here at PUSH we understand youth ministry happens on a tight budget. For what is the cost of many individual cell phone plans, your youth group can have an effective app to engage your community with. Save the cost of administrative staffing by doing the work of an office worker in just a few clicks.



SEND PUSH NOTIFICATIONS TO ENGAGE YOUR LOCAL HIGH SCHOOL
High School Students don't read there email. MailerMailer.com states that only 13% of emails sent by religious organizations are ever even opened (let alone actually read.) That number is even smaller among high school students. That means, at best, 87% of the young people you are trying to reach aren't hearing what you have to say. It is time for a change.
With the advent of mobile app push notifications, or messages sent from an app but delivered right to your recipient's home page, it's possible to get read rate results near 100% from your mobile app's users. If you have an important or time-sensitive message that you need to get sent and READ, simply send an accompanying push notification that alerts them to check their app for the important information.
WITH BRIM YOU CAN:
– Send Push Notifications to your users that will show up directly on their smart phones
– Manages your messages in advance to send at a certain date and time
– Find success with over 4.5x the open rate of traditional email messaging.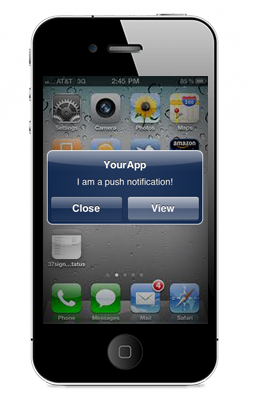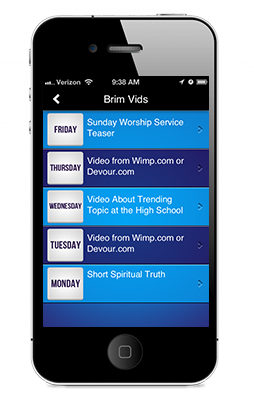 SEND ENGAGING VIDEO CONTENT TO STUDENTS
The BRIM App is all about meeting students where they're at. And right now, where high school students are is engaging with video content on their smart phones. Send them video content that matters to them!
With the BRIM App you can send students funny YouTube videos that are about to go viral, news shorts that speak to the heart of what is going on around their high school, and spiritually engaging content to get students thinking.
BEST PRACTICES
1. Send Student Content that Matters to them. We have found that content sent on this cycle Monday-Friday is most effective at keeping students engaged:
Day 1: Short Spiritual Truth Video
Day 2: Funny YouTube Video from Wimp.com or Devour.com
Day 3: Video about a trending topic at the local high school
Day 4: Funny YouTube Video from Wimp.com or Devour.com
Day 5: Teaser Video for an upcoming youth worship service
2. Tell Students you care about them. In every video that you send, there should be a reminder that you care about the student and that you would love to hear from them



MANAGE AN EVENTS CALENDAR
We have created an events calendar to help you effectively impact the lives of students. Use the BRIM at to help students know what is going on in there area and around your youth group.
Features include easy calendar updates with date, time and description, the ability to Like and Share events on Twitter and Facebook, one touch sync with smart phone calendars and the ability to tell friends you are going to and event through social media.
BEST PRACTICES
We have found it best to not only include youth group activities in the calendar, but also to include events going on at the high school and in the surrounding area. Post a diversity of events so that the calendar is not just a place to know what is going at your youth group, but it is a place to find cool thing going on in the area including your your group events. Post high school sports schedules, concerts at local venues and youth group events for maximum effectiveness and utilization.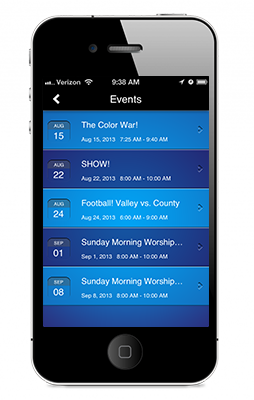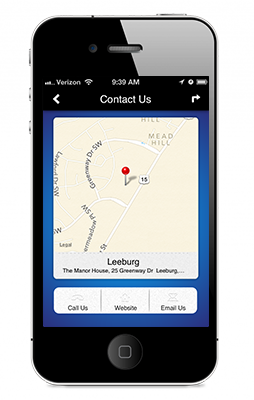 Contact Info and Turn by Turn Directions
BRIM is about initiating communication between a local youth pastor and high school students in his or her area. The contact tab allows students to be one button push away from getting in touch with you, as their youth pastor, via phone, email, web and even in person. A map is populated that shows your youth groups place of worship. Turn by turn directions from anywhere in the world are also offered at the touch of a button.
ABOUT BRIM TAB
BRIM believes that it is important to be up front with students about the reason BRIM exists for them. That is why we have put the "About BRIM" tab into the app.
BEST PRACTICES
The about us section should look very close to this:
"Brim is an application made specifically for the high school students at your high school.
The makers of the Brim App care about your high school career and we think that in order to have the best career possible your life should be filled to the BRIM socially, emotionally creatively and spiritually.
With Brim you can stay in the know about local events for high school students. Keep up to date on whats going on at your school, stay in the know on all of the latest trending YouYube videos and find spiritual truths that you help you live your life to the fullest.
Do you have a social or creative project that you need help with? We would love to hear about it and possibly even feature it on our app. Contact us via the "Contact Button" on the home screen to tell us all about it.
Are you in need of emotional support? Contact us to connect to help.
Want to grow spiritually? Come check out our Sunday worship service at 6pm at our worship location."