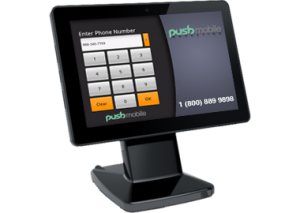 Customers Choose How They Register Their Visit
When a customer visits your store, they can choose to Enter Cell Phone Number or Redeem Coupon Code.

Enter Cell Phone Number
Redeem Coupon Code
STEP 1: Enter Cell Phone Number
When a customer enters their phone number for the first time, they are automatically added to your loyalty program. Each time they return, they just enter their phone number again and the system will keep track of each time they visited.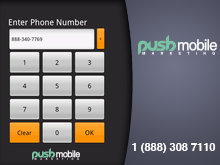 STEP 1: Enter Coupon Code
When a loyal customer receives a text message with a Coupon Code, they can click on Redeem Coupon Code. Your customers don't need to worry, redeeming a coupon will also keep track of their visit!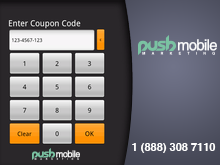 STEP 2: Confirm Visit Registration
After registering, they will see how many times they have visited your store. If they have a valid coupon, it will also display here. (This helps your customers that don't want to receive text messages.)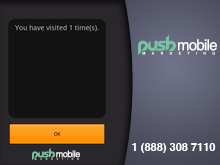 STEP 2: Validate Coupon Code
Every Coupon Code is validated in real time! This helps ensure that the codes are unique, and not copied or shared. This also means that they cannot use Coupon Codes after they expire.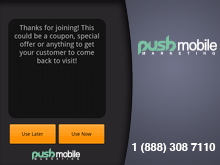 STEP 3: Earn Loyalty Rewards
Each visit to your store will get your customers closer to their Loyalty Reward.
STEP 3: Redeem Coupon
When a customer chooses to redeem a coupon, the system issues a Confirmation Code which can be used to match up with your receipts at the end of the day.